All our services at a glance
[Translate to English:] Online-Kontroll- und Optimierungsservice
[Translate to English:] Service zur Messung und Speicherung von Energie- verbrauchsdaten
[Translate to English:] Qualitätskontrolle der an Sie gelieferten Energie
[Translate to English:] Vor-Ort-Inspektion zur Be- wertung von Neuanlagen
Durch Visualisierung der einzelnen Bereiche, sehen Sie wann und wo wie viel Energie verbraucht wird
All our services at a glance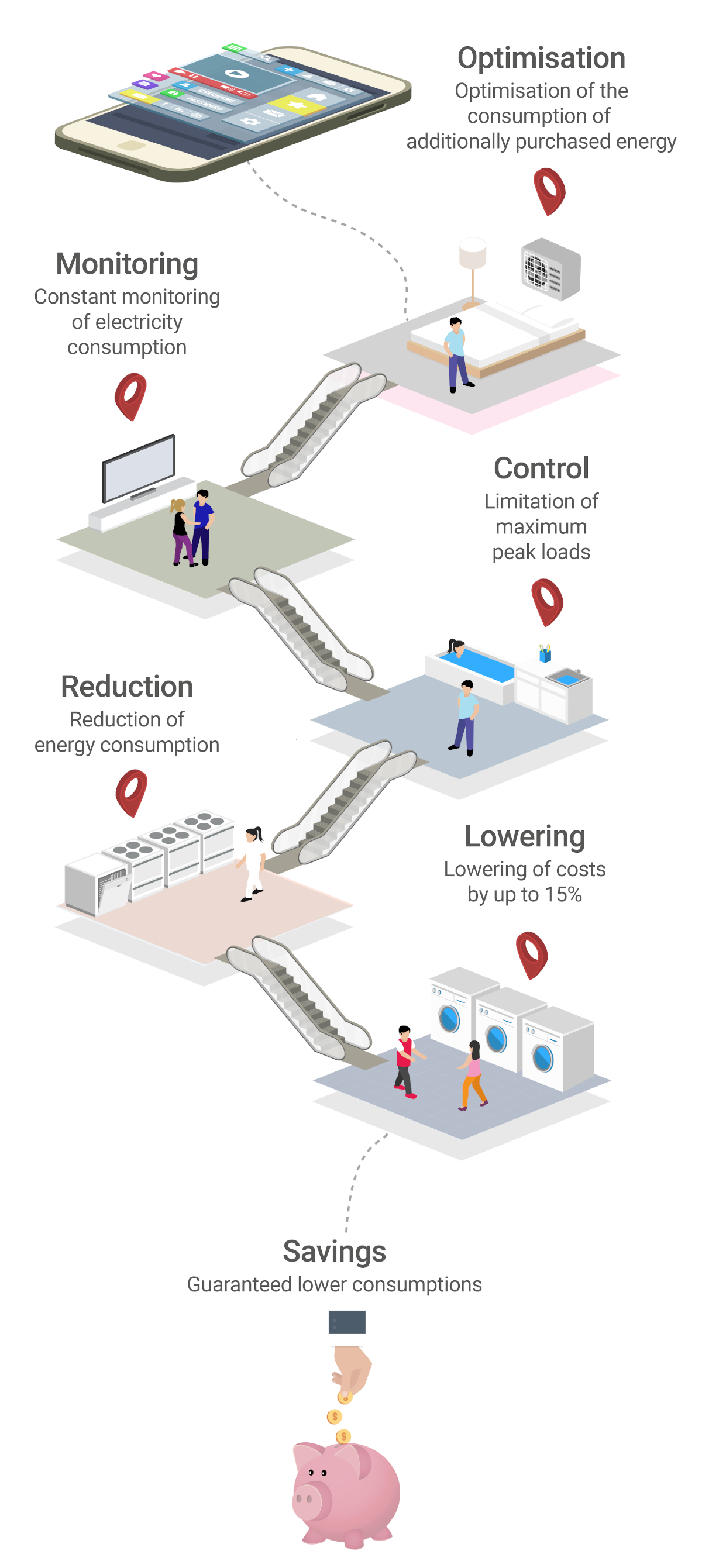 Online service for controlling and optimising electricity consumption
The online software Shadow® is installed in your EnecoTec system. This allows our technicians to check and control the system daily and update it constantly to achieve the greatest possible energy saving for you.
Service for the measurement and storage of energy consumption data
Our EnecoTec system is installed in your building technology and sends all recorded consumption data to our server on a daily basis. On the Internet portal of EnecoTec or via the EnecoTec App for Android and iOS, you can view diagrams and tables at any time to see the amount of electricity being consumed in your establishment. This makes it easy to detect any wastage, optimise work processes with precision, and save even more.
Quality control of your energy supply
Any deviations in energy quality can lead to malfunctions, a higher consumption of electricity, and higher costs. In case of faults and overcurrent, these are thus recorded as anomalies on the EnecoTec Internet portal. As an example, these can include values of excessively high or low voltage, excessive harmonic waves, voltage gaps or problems with frequency. In case of faults or overcurrent, an alarm signal is sent to our system. The minimum and maximum values of these electrical values are likewise recorded daily. This allows you to collect valuable data in order to monitor your energy cycle and locate any weak points.
Free analysis for the valuation of new plants
If you are interested in using one of our systems for your business, please don't hesitate to contact us for an evaluation of the economic viability and a feasibility study directly on your premises, free of charge.
EnecoTec makes electricity saving easy!
Call us and ask how it works. We'll be pleased to advise you.